Rug Gallery
These are just a very few of the range of projects we have undertaken to show the wide range of designs and client needs we can achieve.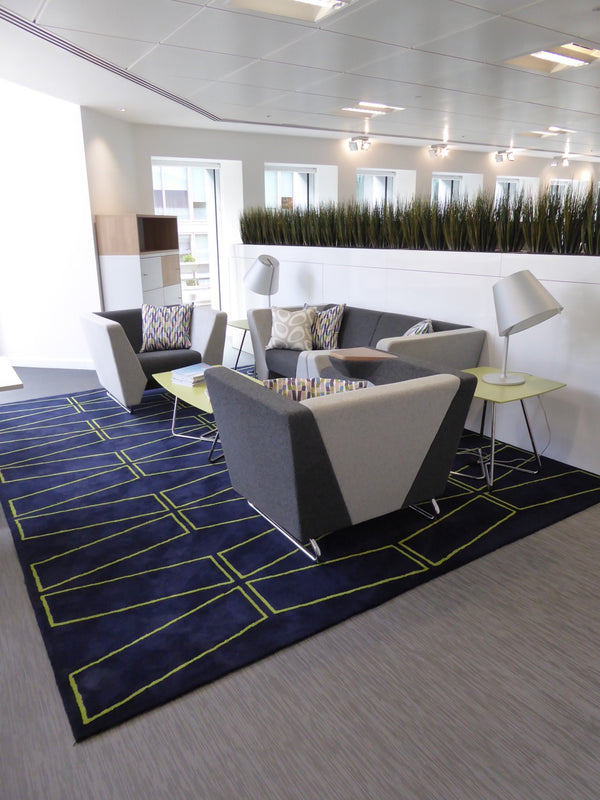 Office Rug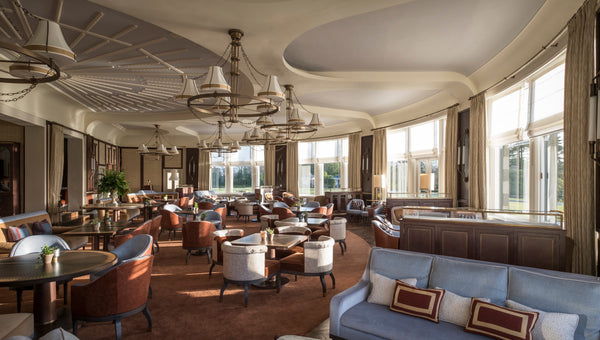 5* Hotel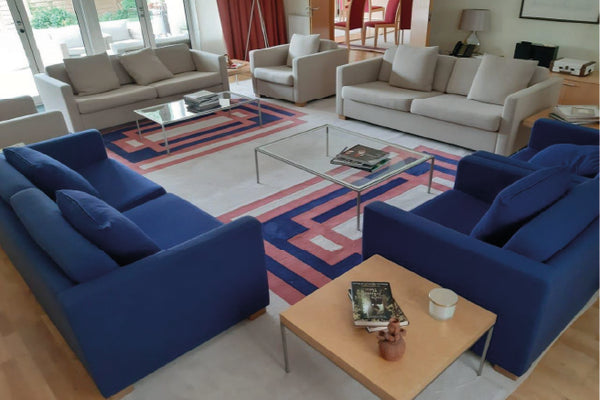 British Embassy
Rugs recently completed for a British Embassy in eastern Europe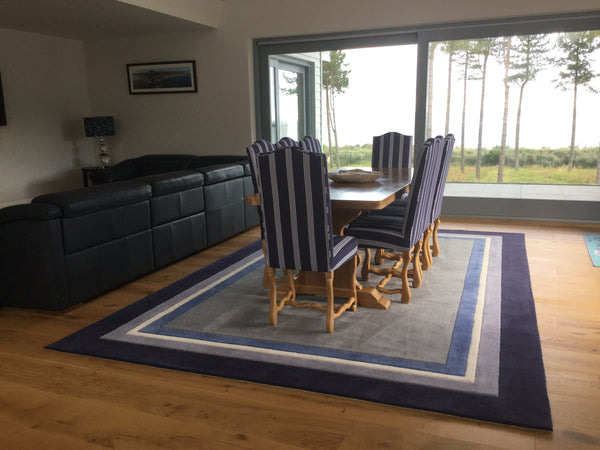 Dining Room Rug
with colours matched to complement the chairs

Burns Museum
The complete tapestry at the Burns Museum with "Aye Fond Kiss" as the central motif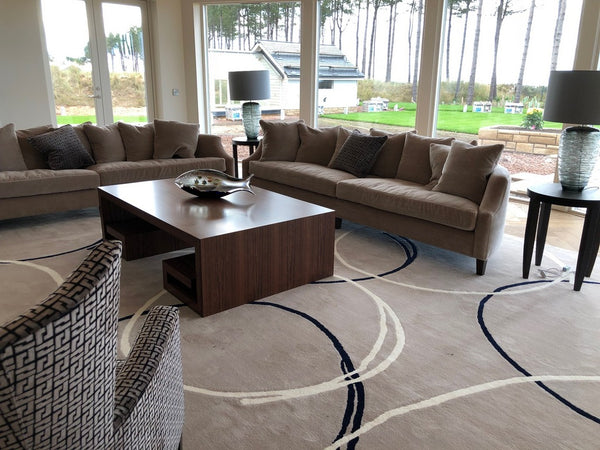 Colour Matched Rug
All colours dyed to match exactly the tones and colours in the interior fabrics. Made in 100% NZ wool. Sizing to exactly match the layout of the furniture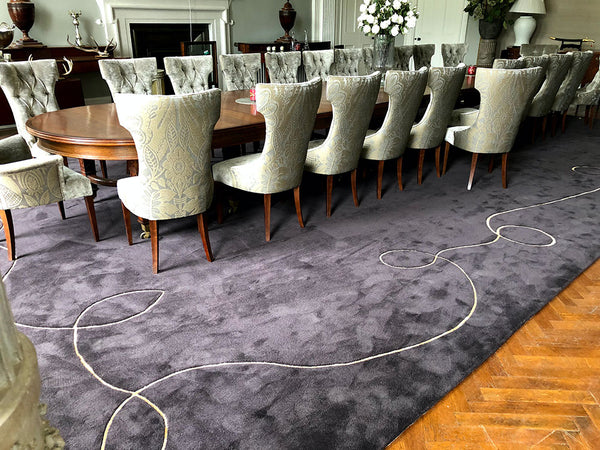 Renovation of large country house
This dining room rug was one of a series of rugs for this project. Made from 100% NZ wool as the base and a gold inset line in bamboo viscose. Made in one piece and to the exact size specifications to balance the length of the table and chairs.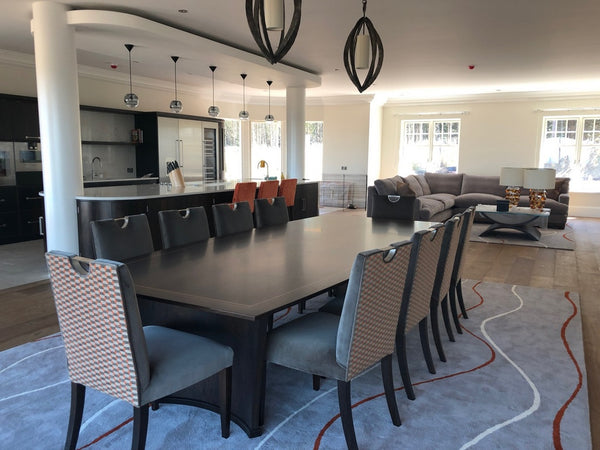 New house in coastal Scotland
A pair of matching rugs in different sizes made in 100% NZ wool with the design lines carved out to accentuate the lines. As with all the designs every colour is matched to meet the client's colour scheme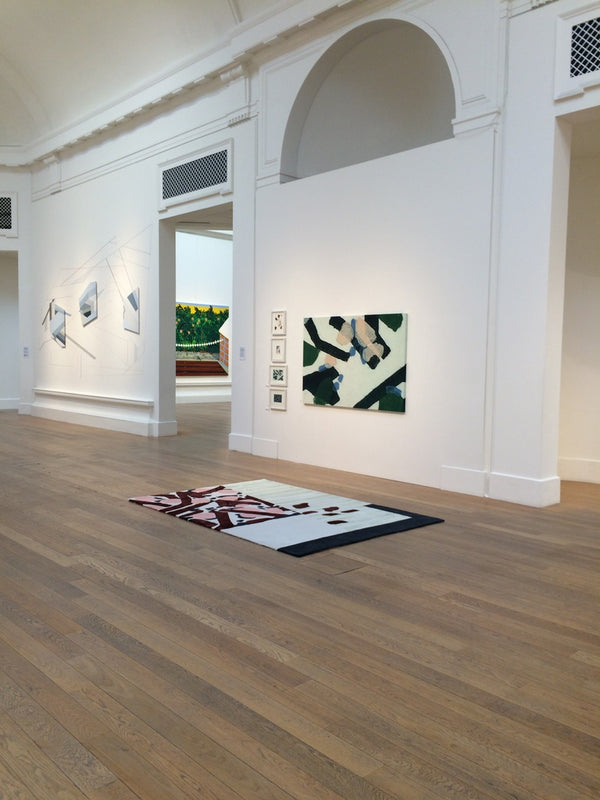 Exhibition Piece
We do our very best to work with design students to help them with their projects and this was a special rug to compliment a series of art works.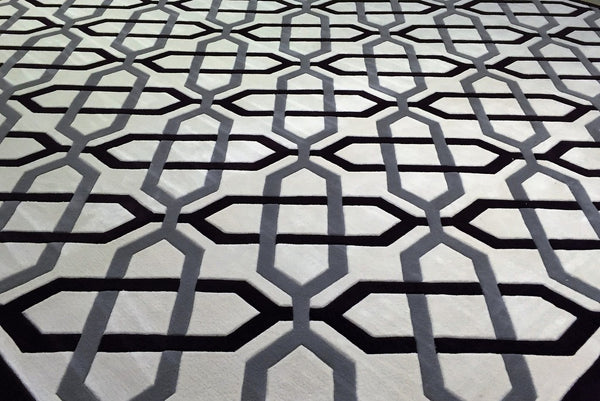 Geometric Design
Made for a domestic setting in a specially dyed colour scheme and each element of the design carved and sculpted.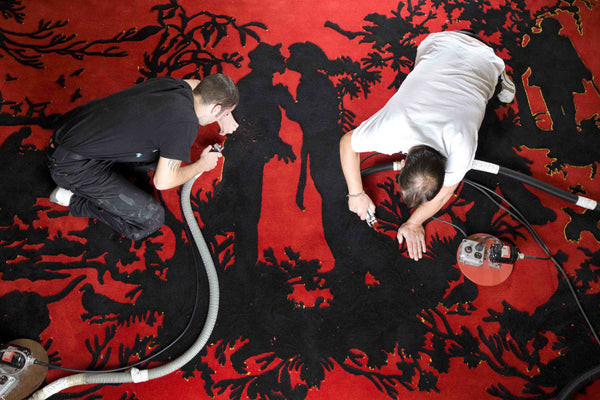 Timorous Beasties Tapestry Rug
This is us just putting the finishing touches by carving out the gold lines on the black figures. This was a 4m x 7m tapestry designed by Timorous Beasties for installation in the National Trust Robert Burns museum in Alloway. The design features scenes and characters from Burns's work.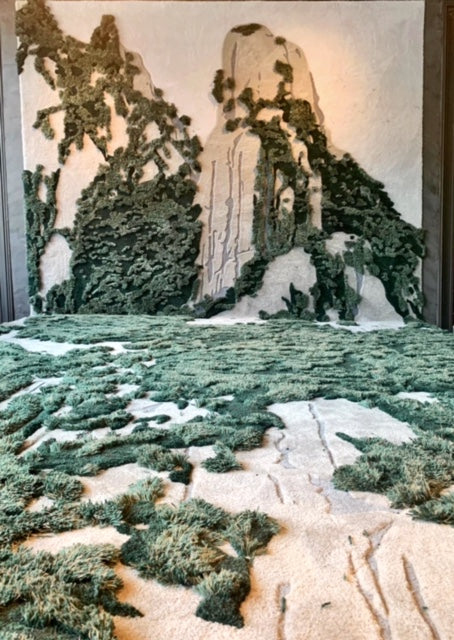 Michelin Star Restaurant in Holland
We had just 9 weeks to complete this 4m x 10m rug and wall covering all in one piece. It was a depiction of a mountain scene with a number of different yarn types and pile heights to give a three dimensional aspect to bring out the rock and vegetation features.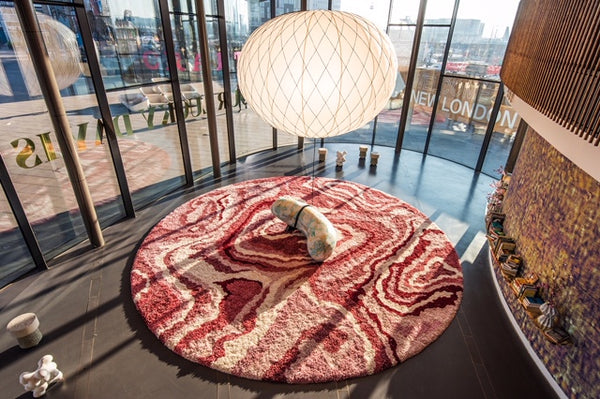 NOW Gallery, London
This was a shag pile rug made at 60mm pile height in a mixture of thick and thin wool yarns and made in one piece at 7 meters diameter. It was designed to capture the "raspberry ripple" look as the rug was made to encourage children to sit down on it and read books. It was hard to keep the adults off!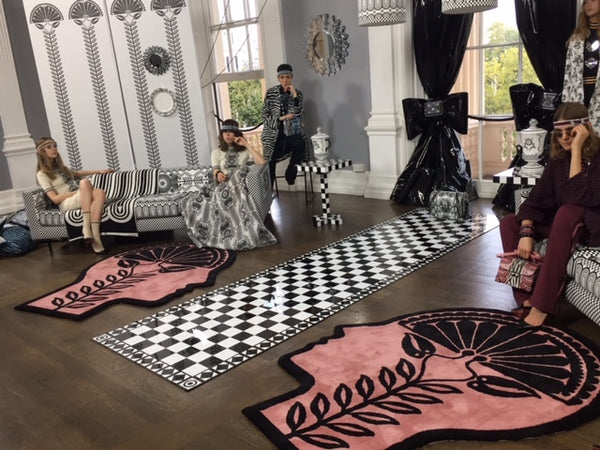 London Fashion Show
We were asked to make these head profile rugs for a fashion show as you can imagine in very quick time.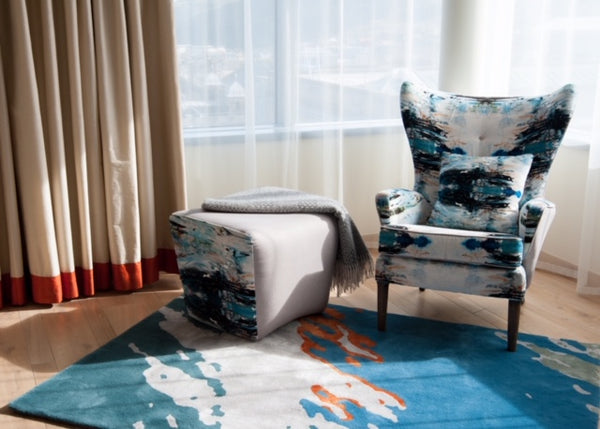 Royal Mile Hotel, Edinburgh
The rugs were designed to match into the colour scheme used in the fabrics for the upholstery. The structure was different sections of a thin worsted wool and bamboo viscose.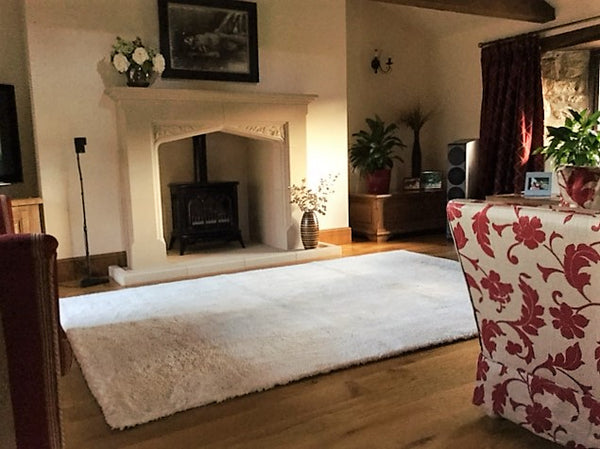 Elegant Lounge
This rug was made in a fibre blend of 55% silk and 45% wool at 25mm pile thickness. It is so soft.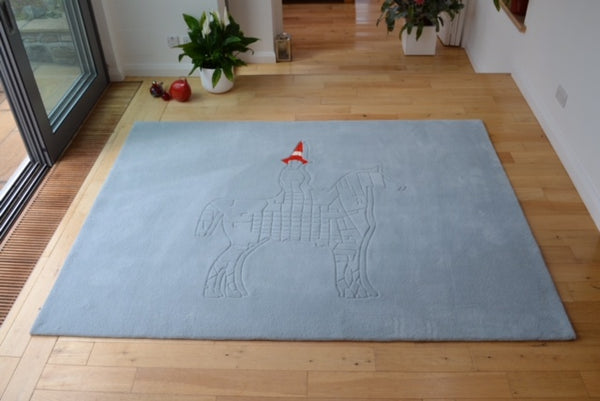 Duke of Wellington statue rug in Glasgow
Traditionally this statue of the Duke has had a traffic cone on his head (courtesy of generations of students). The council spent thousands removing it every day but some years ago gave up and it is now ranked by Lonely Planet as one of the 10 most bizarre monuments on earth. The sculptured area inside the horse is the street layout around the statue.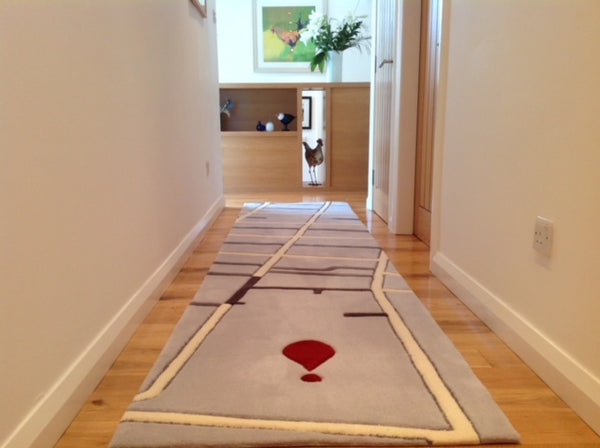 Google Map Runner
This is the rug runner that shows you have arrived. Google gave us permission to use the Google map design elements. You could have your exact address runner.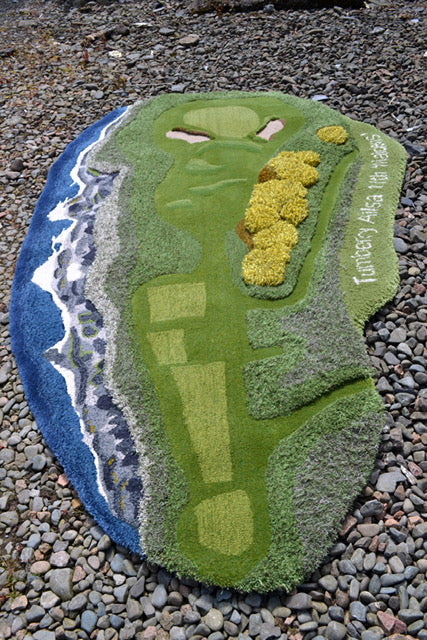 11th Hole at Turnberry Golf Course
This rug is an exact 1/100 scale model of the 11th at the Open championship course at Turnberry. It features the exact bunkers, access walks through the rough and the yellow flowering broom bushes such a feature of the course in the spring/summer. The rocky sea shore being out of bounds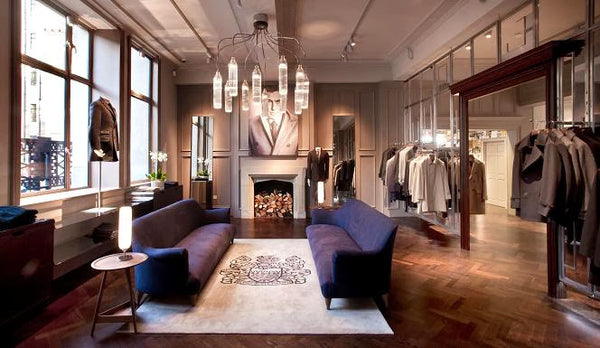 Aquascutum Flagship Store in London
We were commissioned to do a series of hard wearing wool rugs featuring the Aquascutum shield emblem for their flag ship,store in London. This is just one of many company logos, regimental badges and message rugs that we have made all in exact colours.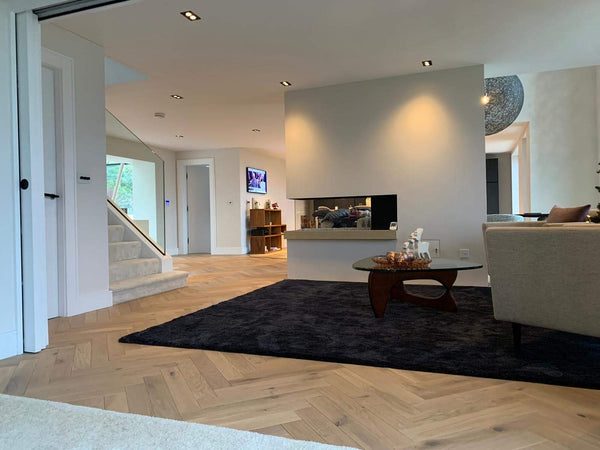 Dark wool in a modern lounge
Not everything we do has an edge to the design and this is just a simple plain rug made to the exact colour and size needed by the client.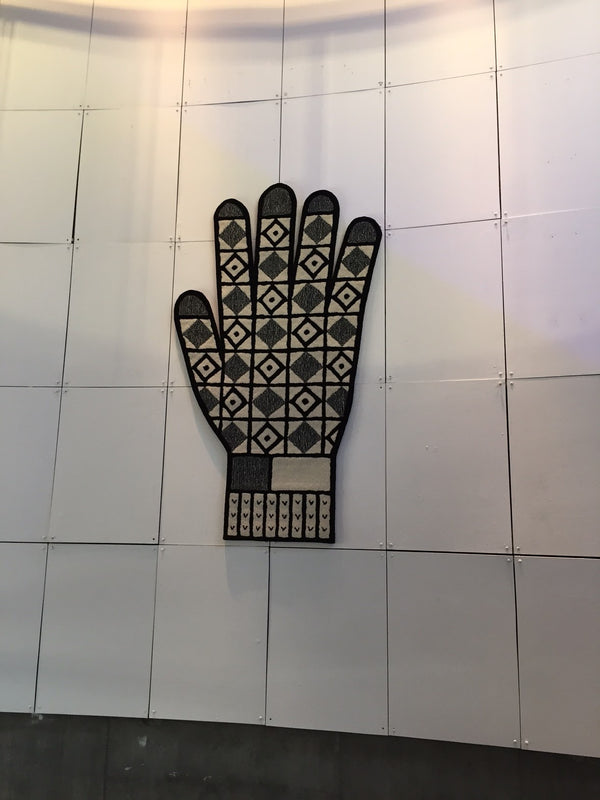 Sanquhar knitting design showcased in The Lighthouse Gallery
The town of Sanquhar had a great tradition of knitting this particular design using just black and white wool. We made a huge rug in the shape of a glove in the same design for mounting on the wall for an exhibition retelling the story of the Sanquhar design.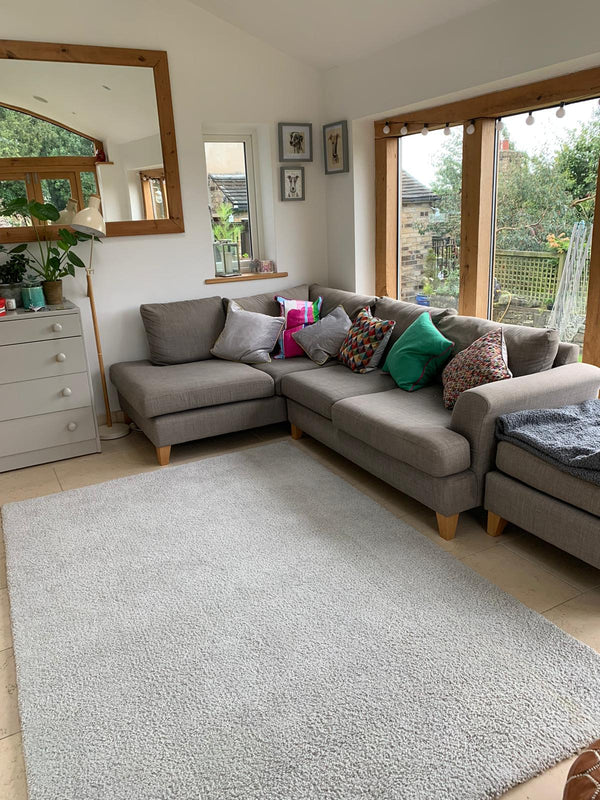 Domestic Living Room
Again just a simple design in a specified colour but this time made with a felted slub wool which gives the impressions of pebbles on a beach. Just an example of creative use of different yarn types to give interesting finishes.